Ayurveda & Yoga massage, an Ayurvedic approach to bodywork.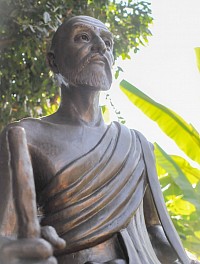 Jivaka Komarabhacca, The Father of Thai Traditional Medicine, is represented as an ancient Indian doctor. Here in the garden of Sunshine Massage School.
This course has been designed for yoga teachers and massage practitioners
20 to 24 Nov. 2023, 5 days, 30 hours

Ayurveda has a deep and integrated relationship with the traditional healing art of Thai Traditional Massage, passive yoga as some like to call it ...

With the growing popularity of Ayurveda and Thai Yoga Massage, this workshop shows a way to  combine the two into a powerful and deep healing system, according to body types. At the end of the course, you will increase your ability to establish a holistic healing plan, as well as dietary recipes.
With the standard operating procedures (SOPs) provided, Formula provides a simple and effective process to operate the complete yoga massage core and holistic healing modalities.
Who is this workshop for, and what is the Ayurvedic approach?
This workshop is for students, often already professional therapists,  who want to learn how to customize their work by using appropriate Ayurvedic yoga blends with Thai massage methods.

Asana will be presented to fit each body type, with information on the Ayurvedic benefits of each Asana and precautions to follow in this dynamic, transformative healing practice.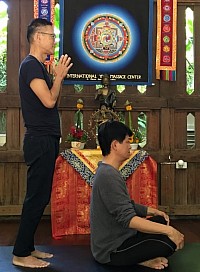 Kenneth Chen, with his friend and inspiration for this course, Kam Tai Chow.
Why should you join this workshop?
This workshop is designed to teach students how to use appropriate methods for yoga massage therapy that suits their body type.

The idea was originally brought up by my good friend, Kam Thye Chow.

This method has been further developed to create a more effective process for improving overall health.
The course will also introduce additional approaches, such as sound massage, making this ancient healing practice more popular and in line with the spirit of Kam.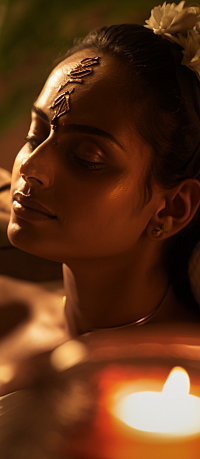 Behind the typical Indian spa postcard ...
The content of this workshop on the Ayurvedic approach in Thai massage includes:

• The history of Ayurveda and concepts of yoga massage philosophy and healing.
• The core foundations of Ayurvedic yoga massage and how to apply them.
• The basics of passive yoga, providing hands-on techniques and application methods.
• How to create a customized diet regimen based on your body type.
• How to determine an individual's life energy constitution and practical skills.
• The different life energy doshas and their relation to essential oils. • How to bring energy movement and wind direction (vayus) into Ayurvedic yoga massage.
• Over 50 Ayurvedic yoga massage asanas, including detailed poses such as standing, sitting, and lying positions.
• How to incorporate passive asana applications at a defined Marma pressure point.
• How to create a customized multi-session passive yoga regimen based on an individual's body type.
• How to create a variety of music plans tailored to your dosha and using sound massage for treatment sessions.
• Sound massage according to the energy of Gunas, corresponding to different individual doshas for treatment sessions.
• Comprehensive instruction on forms, private class techniques, and self-marketing.
Next Date and price for the Ayurvedic Approach class in Chiang Mai

20 to  24 Nov. 2023
5 days, 30 hours.

12,500 THB     (approx. EUR 330, USD 360)