Anatomy and Thai Massage (AnaThai)
FUNCTIONAL ANATOMY & BIOMECANICS FOR CLINICAL THAI YOGA MASSAGE with Thierry
Feb. 2024: 2 consecutive 5-day courses 
which are the fundamental steps for all students, beginners to advanced practitioners willing to increase their knowledge, tools and palpation for a clinical practice.

Beyond the beauty of thai massage rooted in mindfulness and metta, we learn and deepen the process of a silence dialogue.
How to answer to the true needs of the 'receiver' and how to enter the complexity of life in a human body? 
It is essential for clarity in the clinical practice to Fine-Tune qualities of sensing and palpation with a mind structure that supports, guides and informs.
AnaThai, lower body:
12 to 16 February 2024, Baht 11,500.- (approx. EUR 317.-, US$ 343.-)
AnaThai, upper body:
19 to 23 February 2024, Baht 11,500.- (approx EUR 317.- , US$ 343.-)
These 2 courses are specifically planned to clarify the organization of a session while bridging Thai Yoga Massage with western osteopathic approaches.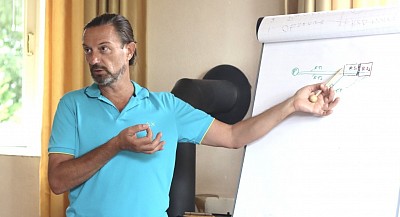 AnaThai, lower body, upper body

1. The structure of a session
·      Observation
·      Preparation and warming up
·      Finding, possible tension, density
.      Integration    

2. Observing the body, the misalignments, and imbalances.
3. The functional anatomy and biomechanics of the main joints.
4. From the feet to the head in theory and practice 
·      Clarify the layers and levels of depth in palpation
·      Precision and details in some of the classical stretches, pressures, blood stop…
·      Mobility techniques improving Range of Motion
·      Reciprocal tension & harmonic rhythmic techniques
AnaThai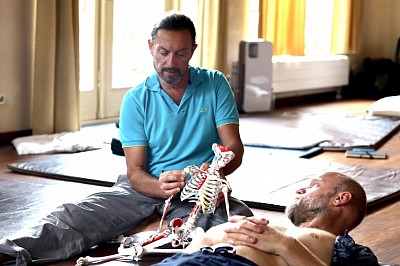 Pre-requisite: At least 60 hours of Thai massage training
Each course :
5 days / 30 CE Hours, Baht 11,500.- (approx. EUR 317.-, US$ 343.-)

Two 5 days courses:
  AnaThai, Clinical Thai Yoga Massage of the lower body: 12 to 16 Feb. 2024 
  AnaThai, Clinical Thai yoga massage of the upper body: 19 to 23 Feb. 2024